DroneCamp 2021, July 26-30. More info.
DroneCamp 2021
July 26-30, 2021
Registration is now open! For additional info, please visit:
Thanks to everyone for making DroneCamp 2020 a grand success!!
Thanks to all the participants, instructors, collaborators, and support people who came together to make this unique collaborative training program possible. Recordings for most sessions are now available - see the session descriptions for links.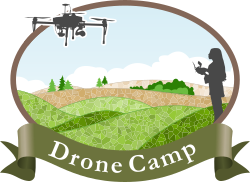 ONLINE
DroneCamp 2020 Online
Welcome to DroneCamp!
DroneCamp is a short course on using drones for mapping and data collection. Now in its 4th year, the program is designed to cover a broad suite of knowledge and skills needed to use drones for mapping.
DroneCamp is a collaborative effort by several campuses and research programs within the University of California and California State University systems. Normally an in-person event at CSU Monterey Bay, DroneCamp 2020 is being held online due to the COVID-19 pandemic. For additional info, see http://ucanr.edu/dronecamp.
Schedule at a Glance
All times are Pacific Daylight Time!
Monday June 22
9:00 - 9:10
Welcome


Welcome to DroneCamp!

9:10 - 9:50
Drone Mapping and DroneCamp Overview


Overview of the drone mapping workflow and where the different DroneCamp sessions fit in

10:00 - 10:50
Hardware: Multirotor Drones, Fixed Wings, and Sensors


Discussion of hardware options: multirotor drones, fixed wings, and sensors

11:00 - 11:50
Drone Safety and Regulations Overview


Learn what you need to know to fly drones safely and legally

14:00 - 14:50
Mission Planning


Principles and guidelines for planning drone missions for mapping and data collection

15:00 - 15:50
Equipment Planning and Preparation


Learn the essentials of preparing and checking your equipment for effective fieldwork

 
Tuesday June 23
9:00 - 9:50
Introduction to Drone Photogrammetry and Data Processing


Learn the fundamentals of photogrammetry and how they apply to processing data.

 
Image Processing Pt1
10:00 - 11:50
Processing UAV Images with ArcGIS Pro


Learn how to stitch images together using the Ortho Mapping Workspace in ArcGIS Pro, and explore elevation and vegetation health analysis.

10:00 - 11:50
Introduction to Multispectral Image Processing with Pix4Dmapper


Hands-on workshop with Pix4Dmapper

 
14:00 - 14:50
How to be a Good Visual Observer


Learn the essential skills and roles of a visual observer

15:00 - 15:50
High Precision Mapping


Tools and techniques for high precision drone mapping

 
Wednesday June 24
9:00 - 9:50
Data Management and Sharing Results


Learn tools and techniques for managing drone data

 
Image Processing Pt2
10:00 - 11:50
Drone Imagery Processing with Agisoft Metashape


Learn how to process drone images into 2D and 3D outputs using Agisoft Metashape

10:00 - 11:50
Open Source Data Processing with OpenDroneMap


Learn to use the open-source photogrammetry toolkit OpenDroneMap (ODM), to process aerial imagery into maps and 3D models.

 
Working with Drone Outputs in GIS Pt1
14:00 - 15:50
Multispectral Data Visualization and Extraction with QGIS


Learn how to visualize processed drone data in QGIS, then overlay and extract data for your sample plots

14:00 - 15:50
Mapping and Analyzing Drone Data in ArcGIS Pro


Visualize and analyze drone orthomosaics and elevation surfaces using ArcGIS Pro

 
Thursday June 25
9:00 - 9:50
Participant Speed Talks


Hear a range of excellent short talks from DroneCamp participants

 
Advanced Flight Operations
10:00 - 10:50
Operating in Controlled Airspace


Regulations, air traffic control clearance, and best practices for flying in controlled airspace

11:00 - 11:50
Night Flying


Everything you need to know to fly safely and legally at night under Part 107

 
Working with Drone Outputs in GIS Pt2
10:00 - 11:50
Vegetation Analysis & Classification in ArcGIS Pro


Analyze vegetation in ArcGIS Pro using a variety of techniques from simple to sophisticated.

 
Special Session on DART
12:00 - 12:50
Preview of the Monterey Bay DART UAS Online Symposium: Innovation & Recovery


Get a sneak preview of the Monterey Bay DART UAS Symposium on the theme "Innovation and Recovery". To be held Oct 19-23, 2020 online.

 
Data Analysis Methods for Ag Research
14:00 - 14:50
Digital Agriculture: Data Processing Tools and Models for UAS Application in Agriculture


Drone data collection methods, processing tools, and analytics for agricultural research

15:00 - 15:30
Sensing Crop Water Stress with Thermal Imagery


Learn the theory and practice behind sensing plant water stress using thermal data

 
UAS Applications in Coastal and Marine Systems
14:00 - 14:15
A Game of Drones: Advancing Discovery and Innovation in Intertidal Research
14:15 - 14:30
Mapping Patch Dynamics from Multiple Data Sources and Scales
14:30 - 14:50
Low Altitude Mapping of Emergent Kelp Canopy in Southern Monterey Bay


A cost-effective method for year-round kelp surveys in Monterey Bay.

15:00 - 15:50
Hardware: Vertical Take-Off and Landings (VTOL) & Fixed Wings


Hear about VTOLs and larger fixed

 
Workforce Development and Higher Ed
14:00 - 14:20
How Are Colleges Preparing Future Drone/UAS Operations Technicians?


Results of a study on the skills and tools students need to have to be competitive in the drone workforce

14:20 - 14:50
The FAA UAS Collegiate Training Initiative (CTI)


Learn about the FAA UAS Collegiate Training Initiative (CTI), a network of partnerships with educational institutions to prepare students for a career in aviation with the FAA.

 
15:50 - 16:00
Closing and Thanks


Thanks for coming to DroneCamp! Come share ideas how we can collectively build and support the drone mapping community.